Try our FREE Leadership Journaling Quickstart Program
What Makes an Effective Leader?
What knowledge, skills, and attributes does it take to create engaging, productive, and healthy workplaces where people can do their best work?
At MyLeadershipHub we are leaders ourselves and have been supporting leaders to understand and develop these qualities for more than 20 years. Our specialized leadership training courses empower leaders with the tools, strategies, and hands-on experience they need to excel. As leaders grow and prosper, organizations benefit from cohesive, efficient, and motivated teams. Click on any of the areas on the model to the left for more information about each competency.
Membership on MyLeadershipHub includes full access to our catalog of self-paced online courses and recorded webinars.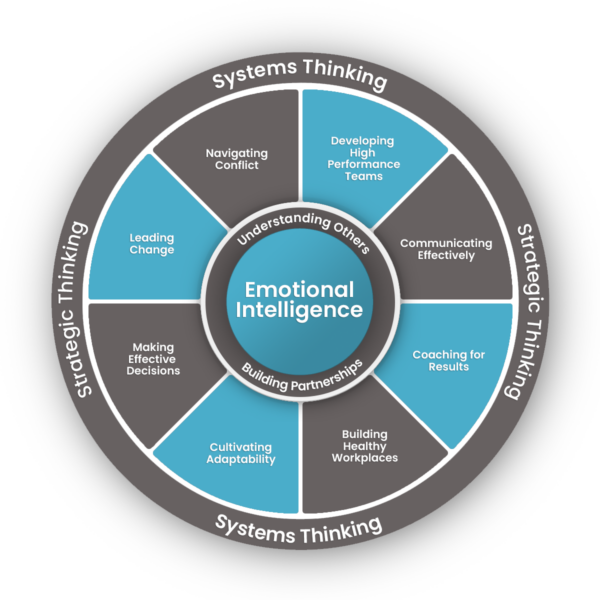 Communicating Effectively
The ability to communicate effectively is a cornerstone of any leader's skillset. Everyone has their own communication style, and it easy to believe that one's chosen style is clear, concise, and widely appreciated, but that's often not the case. Building on a fundamental understanding of their own communication style, leader's need to be able to decode the intricacies of everyday human interaction accurately and effectively. Effective communication is about more than just being a good listener – it's about creating clear, compelling messages that bridge the gap between intention and impact.
Understand the fundamentals of the communication process.
Reduce the potential for miscommunication and misunderstanding.
Learn to adapt your communication style for maximum effectiveness.
Navigating Conflict
Have you ever wondered how a workplace conflict can become such a big deal? How does seemingly small disagreement between people turn from a minor disagreement into a culture impacting, productivity limiting ongoing issue? The reality is that when a group of people start working together, there will always the potential for differences in values, viewpoints, and ways of doing things. Leaders who develop the skills necessary to effectively navigate conflict situations will be able to support more productive, healthy, inclusive working environments where individual perspectives, preferences, and choices are be respected and understood.
Understand common conflict triggers in organizational settings.
Learn and apply effective conflict navigation techniques.
Create channels for productive and effective conflict resolution.
Developing High Performance Teams
Like any well-oiled, high performing machine, your team needs regular maintenance and ongoing adjustments if it's going to continue to deliver exceptional results. Leaders who understand this know they need to pay attention to the inner workings of the team, ensuring that everyone understands what the group working towards, as well as their own individual role in reaching that outcome. Developing a high-performance team requires an understanding of the foundational elements on which the team is built, as well as an appreciation for the ongoing conditions required to ensure the very highest levels of achievement and output.
Explore the OD mindset and go to work on your own team.
Create the foundations of a strong team who are clear on what needs to get done.
Understand the interpersonal elements, like trust and mutual respect, that support great teams.
Coaching For Results
The days of command-and-control leadership are fading fast. Today's inclusive, engaged workplaces need a new kind of leader, one who recognizes the strengths that exist within each team members and is supports people to innovate and develop using their own ideas and thinking. Using a coaching approach doesn't mean you will be having coaching sessions with the members of your team. Instead, it's about using coaching skills, and coaching approaches, to do what skilled executive coaches do – help people find within themselves the strengths and solutions they need to take their performance to a new level.
Understand the fundamental principles of being a coach-like leader.
Identify when it's appropriate and effective to coach or mentor.
Implement communication strategies for effective coaching conversations.
Making Effective Decisions
If you think about a leader's key deliverable, it's a decision. Leaders are asked to make dozens or even hundreds of decisions every day. Some of those decisions are simple, with a limited range of outcomes, and can be made with relatively little thought or consideration. Others are complex and can involve a broad range of known and unknown factors, influences, and considerations. Understanding the part your own underlying thinking plays in this process can not only help you make decisions more effectively, it can also help you make better decisions.
Understand how different people apply their chosen decision-making style.
Learn to work better with others who approach decision making differently.
Learn to make decisions more effectively, which leads to making better decisions.
Leading Change
A quick browse through popular literature will yield nuggets like "the only constant is change". Such platitudes don't help you much as a leader who has been given the responsibility of designing or leading change in a real-world work environment. Instead, you need the practical knowledge and skills you need to lead your team or department successfully, such as how change models and approaches can help you to structure the change process, anticipate points of resistance, and understand why members of your team will move through the change and transition process very differently.
Understand how organizations approach change processes.
Learn how underlying psychology affects how people work through changes.
Create condition that support the effective implementations of change.
Emotional Intelligence
At MyLeadershipHub we believe that emotional intelligence is the bedrock of effective leadership. We didn't just decide on this one day, it's a viewpoint borne of years leading teams, projects, departments, and divisions in a range of organizations from small to large. Emotional intelligence is a broad concept. While most people know that it refers to the way we understand, interpret, and act on emotional information and cues, there is so much more to the topic. Through our programs and courses, you'll learn to better understand your own emotional intelligence, as well improve your effectiveness in working with others.
Understand how your emotional intelligence affects every aspect of your home and work life.
Learn a 'language' of emotional intelligence to better explore how we show up.
Explore the 'dark side' of strengths in your emotional intelligence profile.
Cultivating Adaptability
The pace of change in today's world is faster than ever before, requiring individuals to be more adaptable than ever. The ability to adapt to new situations, learn quickly, and be open to change is critical for success in both personal and professional spheres. Here at MLH we create learning designed to help individuals understand the importance of adaptability, and develop skills to improve their adaptability quotient, or AQ. By exploring practical applications, participants will learn how to assess their current adaptability, identify areas for improvement, and develop strategies to enhance their ability to adapt to change.
Understand how adaptability affects every aspect of your home and work life.
Learn a 'language' of adaptability to understand and evaluate your own adaptability.
Explore the domains that influence adaptability - ability, character, and environment.
Building Healthy Workplaces
The importance of building healthy workplaces has never been more crucial, and leaders need to create and sustain a safe, inclusive, and supportive environment for all employees. With a focus on psychological safety and diversity, equity, and inclusion (DEI), you'll learn the foundational principles and practices to build a culture of trust, respect, and collaboration within their organization. You'll develop a deeper understanding of how psychological safety and DEI contribute to a healthy workplace, and how to implement strategies to promote them. Learn with us and get the knowledge and skills to create a healthy workplace that fosters individual and organizational success.
Explore diversity, equity, and inclusion and why they are so critical in healthy workplaces.
Create the foundations of a workplace that allows team members to thrive.
Understand the unconscious biases we have around diversity, equity, and inclusion.
Questions about becoming a member?